IMPORTANT TOPICS
Come get a den! http://untamedsavannahpack.bigforumpro.com/t79-dens-for-members#487
Top posting users this month

ABOUT YOUName:
Abiku
Age:
6 years
Gender:
Male
Genus:
Lycaon
Specie:
L. pictus somalicus
Markings/Eye color:
Lime Green, hehe. But this is more like green.
Body description (muscular, thin, etc):
He is a tall and slender AWD, with strong legs and big and strong muzzle to bite. His tail is fluffy and has a black arrow on it, just following the line of the backbone.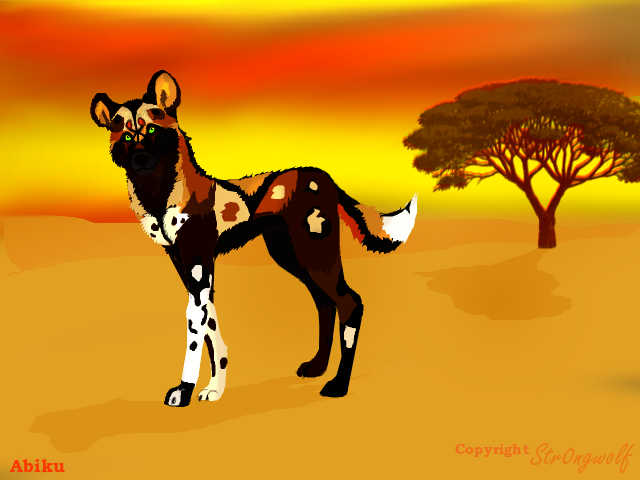 Personality:
He is optimist and very protective when an unfair situation is started. He loves the working team, so he dislikes the unnecessary disputes. He loves and enjoy the company of the others and he has a good paternal sense, for him each member of the pack is like his son, daughter or sibling.
History:
---
FAMILY RELATIONS:Looking for a/an?:
Pups
Current Family:
Mate: Jasmine
Sister/s: Ntombi
YOUR BASIC SKILLS:Experience:
10
Speed:
20
Might:
30
Last edited by Abiku on Tue Apr 30, 2013 6:07 pm; edited 3 times in total (Reason for editing : added family)
Avatar Edited by Strong (Abiku)
AWD (C)
Eric Kilby

---
Permissions in this forum:
You
cannot
reply to topics in this forum