IMPORTANT TOPICS
Come get a den! http://untamedsavannahpack.bigforumpro.com/t79-dens-for-members#487
Top posting users this month

>>Name ::
Khari
>>Pronounced ::
*Car-ee*
>>Gender ::
Female
>>Age ::
Two years and three months old
>>Genus ::
Lycaon Pictus
>>Species ::
African Wild Dog
>>Rank ::
Omega
>>Desired Rank ::
Nanny
>>Experience ::
30
>>Speed ::
20
>>Might ::
10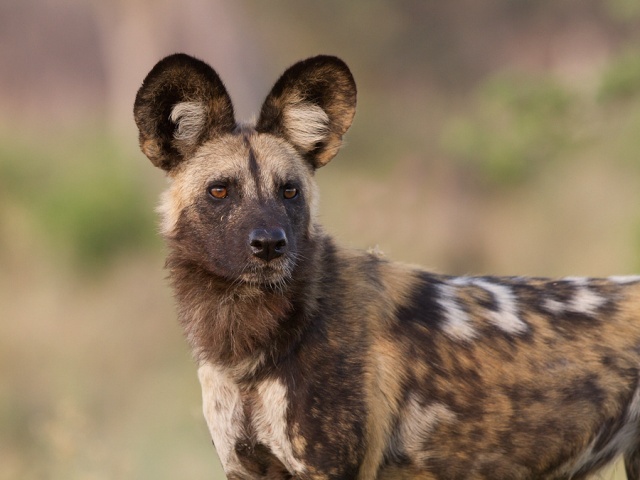 >>Coat Color ::
Khari has a light cream base coat with darker patches of chestnut brown splashing her hide. A black hue coats her muzzle, around her optics, her cheeks, a black stripe runs vertically down her forehead, and her ears are black as well as all four of her limbs. White marks can be distinguished along her body, including a white chest and a white horseshoe looking mark on her left flank. Other than that she has your general AWD markings with splotches of different color blending into her coat
>>Optics ::
A dark caramel with rings of darker brown and lighter gold
>>Body ::
Khari has a lither build with long legs and quck paws. Large round ears sit atop her head and her sharp eyes look almond in shape
>>Wounds ::
Very few scars score across her hide and the few that can be seen are smaller scratches recieved from a playful pup nips and rough play
>>Likes ::
Running, pups, shade, and the sound of rain
>>Dislikes ::
Droughts, leopards, crowds, and Hiru
>>Skills ::
Swimming, running, and watching pups
>>Weaknesses ::
She fears her mothers death is her fault and this haunts her dreams
>>Habits ::
Gnawing on a stick when frustrated to calm herself
>>Fears ::
Flashbacks, fires, and leopards
>>Overall Personality ::
Khari has always been the shy type of lycaon, she tends to keep to herself and is reserved around strangers though canines who get to know her will see her rather charming, caring side. She is politely friendly despite her quieter side, smiling at others tends to happen allot and her good sense of charisma can lead to friends. Many call her friendly or even sweet but she is even more so around the young ones. She absolutely adores the young canines of the world and always has been, she is experienced with pups and enjoys pup sitting them and playing with them. Only pups can bring out her more outgoing side that also has a hint of humor playfulness with it
>>History ::
From the moment Khari was born her life has been complicated. It was a hot summer day in Africa, the sun was already in the high point of the sky and the heat blistered the Savannah, baking every living animal dry. The water in the ponds had evaporated to a steamy mist, there wasn't enough food, and Khari's arrival couldn't have been worse. Only one pup was born that day, and that was her, she was born two months prior to her due date and her body was the smallest her birth mother had ever seen. She was the second child of the femme and she would be the last, and that is because Akela passed at birth. Akela had been too weak, too dried up to give birth at that early, she had no choice but to fade from the earth...Khari never even met her mother, alive that is. All she had at birth was her father and older brother, Mitzu, who had been born a year before. But if that wasn't enough, Hiru left her,her fathers thoughts jumbled and disoriented at his loves death, he left Mitzu to care for young Khari. Khari was still on milk, she had just been born, after all, she needed the milk of her mother, but of course that wasn't going to happen. So Mitzu picked up his young sister and they began traveling, searching for a source of milk for her. It took them barely a day to find help, Khari doesn't remember much of the journey, only that she had been starving by time they reached help. Help came from their aunt, their mothers sister. The femme had luckily given birth to her own litter of puppies only weeks before, so Khari could feed. From their did she grow, thinking of her aunt as her mother, she looked up to her aunt and as well as her older brother, after all they had both saved her life. Her pup hood was much easier then, she lived a happy life, loving the ones around her and she grew to know her aunts pups as her siblings. As time wore on in her perfect little life and as the femme neared adult hood, Khari noticed some changes in her blood brother, he seemed to have desires to split from their happy little pack, to go off on his own and dispersed. Though saddened by Mitzu's decision, Khari and the rest of her family respected his decision when he decided to leave. Not long after Ryuk, her thought to be blood brother found a mate and had pups of his own. However instead of dispersing, Ryuk stayed with the pack and Khari found herself a job as his pups nanny, which she found she loved! She found a passion and enjoyment when caring for the young ones and became her packs official nanny. Though disaster soon struck, one day a leopard got a hold of one of the young ones....Khari was not on the scene but the aging Kiwau arrived just on time, in the end the pup was severely injured, somehow the young one managed to survive but as for Kiwau...Burial for her adoptive mother happened that very same day, Khari felt responsible, after all she should have been thee, she was the nanny, she should have been there to protect the pup in the first place. So with a farewell, she left her family with her head low, and dispersed in her brothers foot steps. For three months she traveled with barely a rest, her head soon raising as she soon gained confidence, she also had a strange urge to go and find a pack, another place to call home where she could forget her old worries and at least try to stop feeling guilty. So finally she arrived to a pack called the Untamed Savannah Pack, her paw steps quick and eager as she made her way towards the scents of wolves that greeted her, excited to start her new life...
Note-Histories idea/plot was made up by me and Mitzu
>>Mate ::
She loves no canine
>Crush ::
She has no special bond with a canine
>>Youths ::
A gal can dream...
>>Dad ::
Hiru
>>Mom ::
Akela
>>Brothers ::
Mitzu
>>Sisters ::
She has no femme siblings
>>Uncle ::
Athalo
>>Aunt ::
Kiwau
>>Cousins ::
Vaark ♂
Ryuk ♂
Corsol ♂

Khari

Omєga





♦ Gender

:


★ Posts

: 14

---

Reputation

: 0



Awesome bio! Welcome to the pack! I added your skills on profile! ^^

Avatar Edited by Strong (Abiku)
AWD (C)
Eric Kilby
Thank you! I will begin rolplay as soon as possible

Khari

Omєga





♦ Gender

:


★ Posts

: 14

---

Reputation

: 0




---
Permissions in this forum:
You
cannot
reply to topics in this forum