IMPORTANT TOPICS
Come get a den! http://untamedsavannahpack.bigforumpro.com/t79-dens-for-members#487
Top posting users this month

ABOUT YOUName:
Rosco
Age:
3 Years
Gender:
Male
Genus:
Lycaon
Specie:
Pictus
Markings/Eye color:
Eyes are a soft, red gaze that always seem to be filled with thought. He has a scare on the top of his muzzle, though he can not seem to recall where he got it from.
Body description (muscular, thin, etc):
Rather bulky legs, and sharp claws. Considering where he came from, he is rather plump and looks well feed.
Personality:
Oddly enough, the voice of a noble with the accent of a Jamaican, Rosco is a rather friendly dog and doesn't make enemies that often, always open to see new places and meet new creatures, he has an adventurous spirit and goes where his heart leads him.
History:
Born into a rather large pack where it is easy to lose yourself and get lose in the wild, Rosco was a feisty young pup, always getting into trouble and off exploring though his mother warned him to stay close.
One day, a prince from a far away land came in a fancy carriage pulled by horse to visit the savanna. Curious about who was on his land, the young african wild dog stuck into the carriage once the prince and his guards had stepped out, curiously digging into his things and getting caught in some thread. Coming back and finding the pup trapped, the prince decided to make it his pet and keep him, being of an un-tamable species, Rosco did not make the best pet, though he became spoiled under the life of luxury and enjoyed his travels with the prince while it lasted.
Being tired of the pampered life, the wild animal left the carriage the next time the prince had visited the savana, though he fell upon a different pack, the Untamed Savannah Pack.
FAMILY RELATIONS:Looking for a/an?:
Anything that ya'll can think of with that past! xD
Current Family:
He has no idea what happened to them, perhaps another member who left another pack could have been of his old family?
YOUR BASIC SKILLS:
Hunting, and well... he loves food.
Experience:
15- He was training to be a hunter for his old pack, and with his life with the prince, he learned about many flavors and spices, knows what food is good and what is not, for when there might be no animals to hunt.
Speed:
30- After years of luxury, his plump build has made him... not the fastest of dogs, but after he gets use to the wild again, he will be back to his normal self, speedy!
Might:
15- He is quite oblivious, not the mightiest dog and can come off as way too kind, probably needs to be more stern.
I have no idea what the points thing is, help? > <
Last edited by Rosco on Mon May 20, 2013 9:40 pm; edited 1 time in total

Rosco

Omєga





♦ Gender

:


★ Posts

: 9

---

Reputation

: 0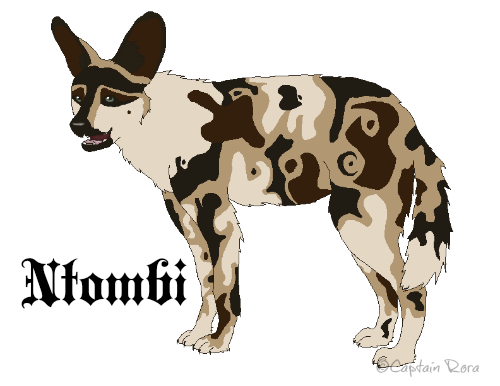 Awesome character. |D

And yeah, the points/skills -- they must equal up to 60 with at least 10 in each category.
"While I thought that I was learning how to live, I have been learning how to die."
Leonardo Da Vinci.
By Koa.

Meeka

Lϵαd Ρгovidεr





♦ Gender

:


★ Posts

: 45

---

Reputation

: 0



I added the points, do those work?

Rosco

Omєga





♦ Gender

:


★ Posts

: 9

---

Reputation

: 0



Yes, that is it!
I'll update them now. You can RP now!
Ntombi = 10 Devotion
Avatar Edited by Abiku
AWD (C)
mstickmanp
2nd Character: Photo (C)
Marie Hale

Jasmin

Lϵαd Guąrdiaη





♦ Gender

:


★ Posts

: 100

---

Reputation

: 0




---
Permissions in this forum:
You
cannot
reply to topics in this forum